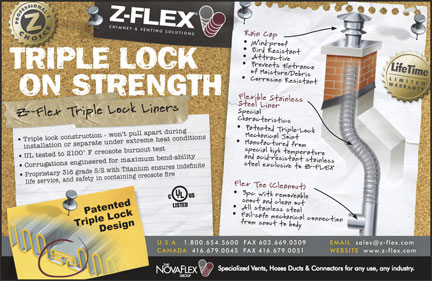 Z-Flex Chimney Liners & Venting Systems
Z-Flex is the leading manufacturer of specialty venting systems for furnaces, boilers, tankless water heaters, water heaters, oil heaters, fireplaces, and more.
Z-Flex pioneered flexible chimney liner solutions and special gas vent (AL29-4CŪ).
A variety of innovations in materials and construction produce products that deliver
superior performance, increased efficiency, e
asier handling and faster, simpler installation, g
reater reliability, safety and increased service life.
Brands: Z-Flex, Z-Vent, Insulvent
For detailed product & technical information, please browse the Information Center.

For best download results please use Adobe Acrobat Reader 7.0 or greater.